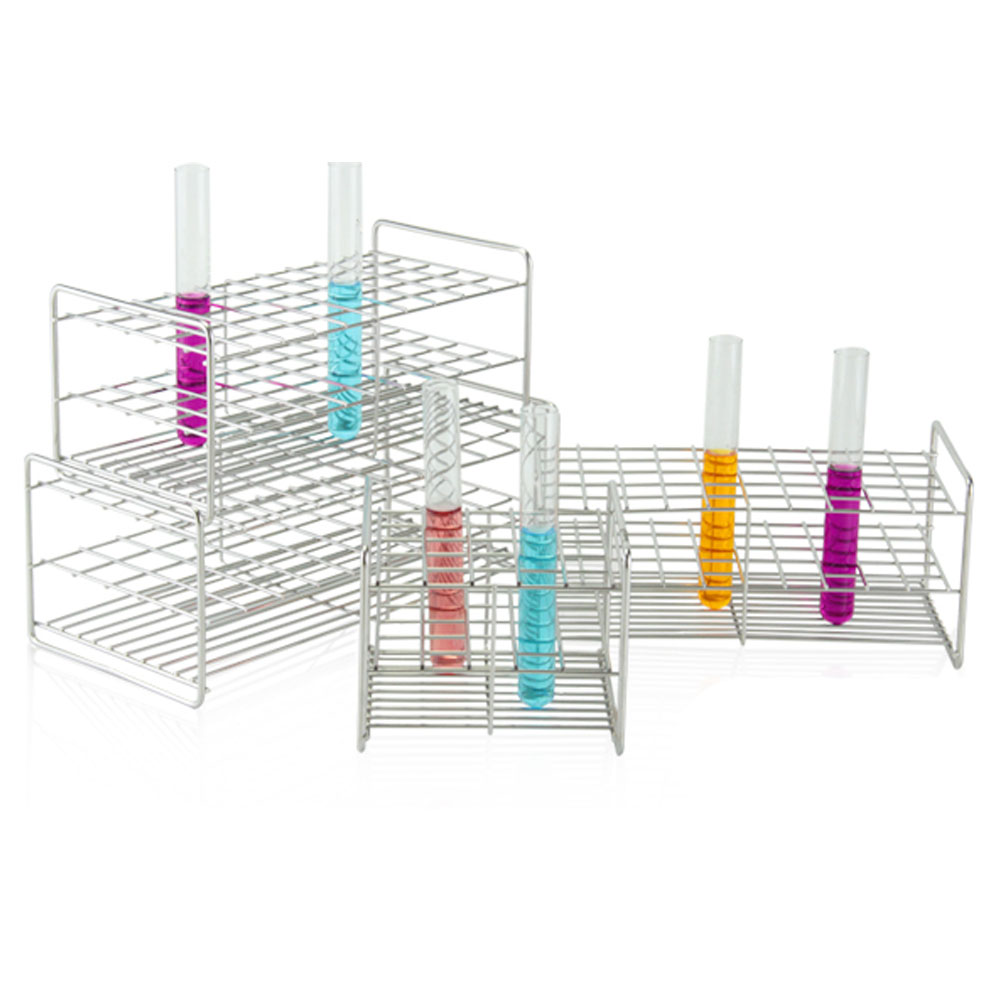 ADAMAS-BETA Stainless Steel Test Tube Rack Laboratory Centrifuge Tube Rack Storage Holders 10-100 Holes Self-reliant Porous Tube Holders
Size:100 Holes,Suiteble for Test Tube:φ11-13mm,Grid Arrangement:10x10
Size:100 Holes,Suiteble for Test Tube:φ12-14mm,Grid Arrangement:10x10
Size:100 Holes,Suiteble for Test Tube:φ14-16mm,Grid Arrangement:10x10
Size:100 Holes,Suiteble for Test Tube:φ15.5-17.5mm,Grid Arrangement:10x10
Size:100 Holes,Suiteble for Test Tube:φ17-19mm,Grid Arrangement:10x10
Size:72 Holes,Suitable for Tube Dia:φ15.5-17.5mm,Grid Grid Arrangement:12×6
Size:72 Holes,Suitable for Tube Dia:φ17-19mm,Grid Grid Arrangement:12×6
Size:72 Holes,Suitable for Tube Dia:φ20-22mm,Grid Grid Arrangement:12×6
Size:72 Holes,Suitable for Tube Dia:φ20-22mm,Grid Grid Arrangement:12×6
Size:60 Holes,Suitable for Tube Dia:φ17-19mm,Grid Grid Arrangement:10×6
Size:50 Holes,Suiteble for Test Tube:φ11-13mm,Grid Grid Arrangement:10×5
Size:50 Holes,Suiteble for Test Tube:φ12-14mm,Grid Grid Arrangement:10×5
Size:50 Holes,Suiteble for Test Tube:φ14-16mm,Grid Grid Arrangement:10×5
Size:50 Holes,Suiteble for Test Tube:φ15.5-17.5mm,Grid Grid Arrangement:10×5
Size:50 Holes,Suiteble for Test Tube:φ17-19mm,Grid Grid Arrangement:10×5
Size:50 Holes,Suiteble for Test Tube:φ20-22mm,Grid Grid Arrangement:10×5
Size:50 Holes,Suiteble for Test Tube:φ20-22mm,Grid Grid Arrangement:10×5
Size:50 Holes,Suiteble for Test Tube:φ29-31mm,Grid Grid Arrangement:10×5
Size:50 Holes,Suiteble for Test Tube:φ39-41mm,Grid Grid Arrangement:10×5
Size:50 Holes,Suiteble for Test Tube:φ15.5mm,Grid Grid Arrangement:10×5
Size:50 Holes,Suiteble for Test Tube:φ20mm,Grid Grid Arrangement:10×5
Size:50 Holes,Suiteble for Test Tube:φ22.5mm,Grid Grid Arrangement:10×5
Size:50 Holes,Suiteble for Test Tube:φ27mm,Grid Grid Arrangement:10×5
Size:30 Holes,Suiteble for Test Tube:φ14-16mm,Grid Grid Arrangement:10×3
Size:30 Holes,Suiteble for Test Tube:φ17-19mm,Grid Grid Arrangement:10×3
Size:25 Holes,Suitable for Tube Dia:φ14-16mm,Grid Grid Arrangement:5×5
Size:25 Holes,Suitable for Tube Dia:φ17-19mm,Grid Grid Arrangement:5×5
Size:20 Holes,Suitable for Tube Dia:φ29-31mm,Grid Grid Arrangement:5×4
Size:20 Holes,Suitable for Tube Dia:φ39-41mm,Grid Grid Arrangement:5×4
Size:12 Holes,Suitable for Tube Dia:φ34-36mm,Grid Grid Arrangement:6×2
Size:12 Holes,Suitable for Tube Dia:φ39-41mm,Grid Grid Arrangement:6×2
Size:10 Holes,Suiteble for Test Tube:φ29-31mm,Grid Grid Arrangement:5×2
Warm reminder:
1.Due to the light and screen difference, the item's color may be slightly different from the pictures.
2.Please allow slight deviation for the measurement data and make sure you do not mind before ordering.
3.The other items in the picture are for reference only and are not for sale.