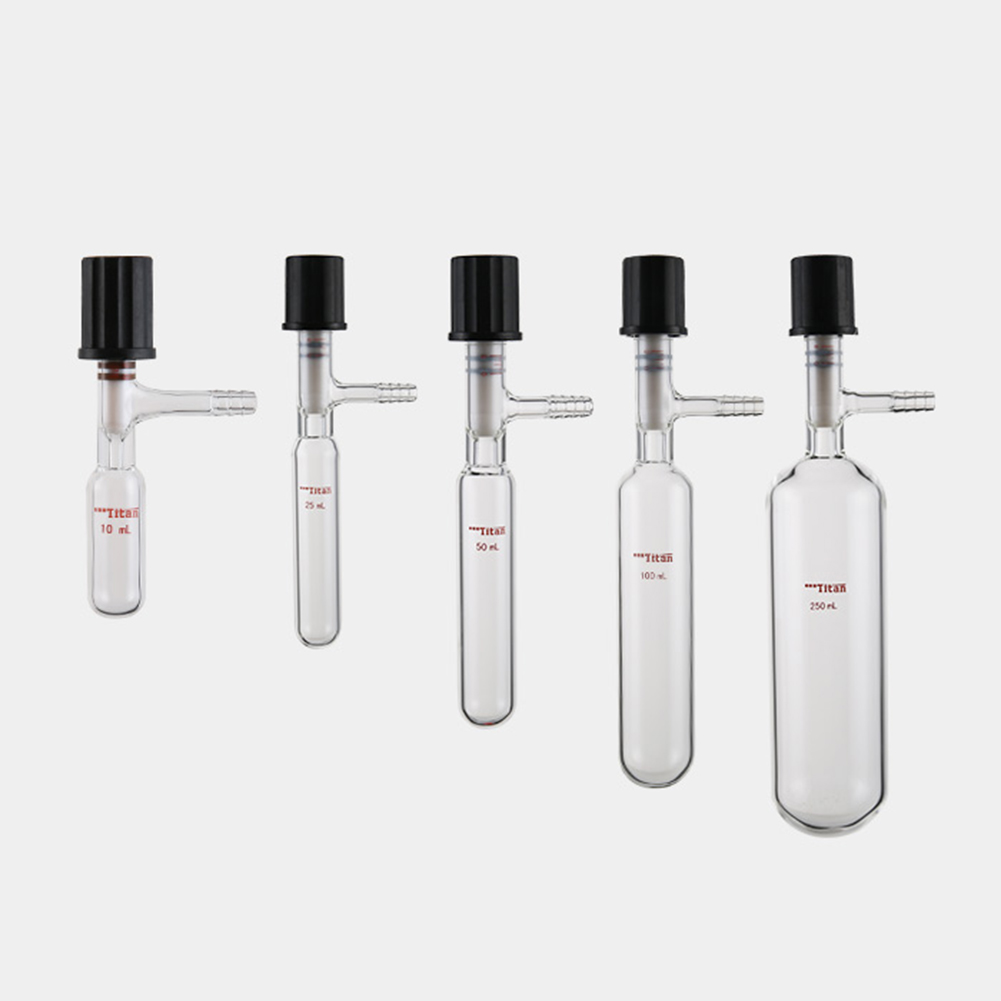 Solvent Storage Bottle Laboratory Glassware 10-350ml Sealed Glass Reagent Bottle with Caps High Vacuum Valve Lab Vials Flasks
Product Details:
Material: Glass
Item type: Solvent Storage Bottle
Shape: with Caps
Festures: High Vacuum Valve
Capacity:5-350ml
Quantity: 1 Pcs
Size:(All sizes are available,please let us know if you need.)
Capacity:10ml,Tube Outer Dia.:22mm,Ful-length:55mm,High Vacuum Valve:0-4mm
Capacity:20ml,Tube Outer Dia.:19mm,Ful-length:130mm,High Vacuum Valve:0-8mm
Capacity:25ml,Tube Outer Dia.:26mm,Ful-length:110mm,High Vacuum Valve:0-4mm
Capacity:25ml,Tube Outer Dia.:26mm,Ful-length:100mm,High Vacuum Valve:0-8mm
Capacity:50ml,Tube Outer Dia.:28mm,Ful-length:140mm,High Vacuum Valve:0-8mm
Capacity:100ml,Tube Outer Dia.:40mm,Ful-length:140mm,High Vacuum Valve:0-4mm
Capacity:100ml,Tube Outer Dia.:40mm,Ful-length:140mm,High Vacuum Valve:0-8mm
Capacity:250ml,Tube Outer Dia.:60mm,Ful-length:140mm,High Vacuum Valve:0-8mm
Capacity:350ml,Tube Outer Dia.:70mm,Ful-length:140mm,High Vacuum Valve:0-8mm
Features:
1. Chemical properties: low expansion rate, high temperature resistance, high strength, high hardness, high light transmittance, high chemical stability, acid and alkali resistance.
2.With cover design, good sealing effect.
3. The high vacuum valve design plays a decisive role in the vacuum storage of reagents.
4. The wall is thick and uniform, without bubbles and lines. The identification is clear.
5.It is widely used for heating, dissolving, mixing, boiling, melting, evaporating, concentrating, diluting, precipitating, clarifying, etc. of chemical reagents.
Note:
1.Due to the difference between light and display, there may be some slight color difference from the actual product. Please refer to the actual product.
2.The other samples in the picture are for reference only, not as a sales item, please know.